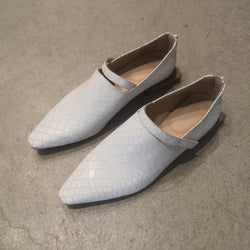 Katz And Birds
Hand Carved Shoes In White
Oxford shoes women, style shoes, leather booties women, minimalist oxfords , tie shoes, shoes women, block heel oxfords for women, handmade shoes.
------------------
Hand Carved Shoe Shape Made By An Artist.
They are comfortable and Chic and will look great with any outfit.
We use the finest leather and the most comfortable shoe shape.
We use a manufactured durable sole so that you can enjoy the most out of these gorgeous shoes.
All of our shoes are handmade, created with careful attention to comfort, detail and style.
This style has a 2cm-0.78" heel.

------------------

Shoe Details:
* Color - Textured White
* Upper Materials: Fine Soft Leather.
* Inner Materials: Leather.
* Shoes are Soft, lightweight, manufactured sole.
* Heel height - 2 cm / 0.78
* Zipper and a piece of leather to protect your foot
 *Leather strap with velcro

I make each individual order according to your choice of size and color.
Keep in mind it does take about 2 weeks to make the shoes before they are shipped.

Sizing – You should choose the size you normally wear, yet compare the measurements of your foot to this table. Shoe sizes may vary between shoe brands, and designs, that's why it is best to go by
CM / INCH.
Send me your measurements and I will make sure you picked the right size.

Shoe size EU / Feet's length in cm should be / Inch

36 EU / 23.1-23.6 CM / 9.09 -9.29 Inch / width is 20.5
37 EU / 23.7-24.3 CM / 9.33-9.56 Inch / width is 21
38 EU / 24.4-25 CM / 9.60-9.84 Inch / width is 21.5
39 EU / 25.1-25.6 CM / 9.88-10 Inch / width is 21.5
40 EU / 25.7-26.4 CM / 10.11-10.39 Inch / width is 22
41 EU / 26.5-27 CM / 10.43-10.62 Inch / width is 22.5
42 EU / 27.1-27.6 CM / 10.66 - 10.86 Inch / width is 23
43 EU / 27.7-28.3 CM / 10.9-11.14 Inch / width is 23.5

Please see the last image of each listing - an illustration on how to measure your feet.
I recommend measuring your feet at the end of your day, Our feet spread through-out the day after walking.
Stand on a piece of paper longer than your foot and trace a line around your foot.
Measure from the heel to the end of your largest toe, repeat process with your other foot.
Width - measure *around* the widest part of your foot according to the drawing, and write the circumference of each foot.

If your feet are a bit wider, that is not a problem –The shoes are made of premium leather and normally will fit itself according to your foot.
If you are not sure which size you are, please contact me for assistance.
I do custom orders for bunions - please contact me for more information.

Feel free to contact me if you have any question, I will be happy to help.
Thanks for visiting my shop,
Hadas
SHIPPING
---------------------------
Shipping is Free to USA  !
We use DHL.
---------------
The time we need to prepare an order for shipping varies. For details, see individual items. If the item you chose is in stock-it will be processed in 3 business days. If the item you chose is out of stock, it will be ordered from the factory and will be shipped in 2-3 weeks.
---------------------------

Additional Policies and FAQs
* Please provide your cell phone number, for the delivery company

* Please contact us for any question.

* Please take under consideration sometimes there are postal delays.

* Please be aware that international buyers are responsible for any customs and duties charges.

* Our products exit the studio well packed and water proof.

* Shoes should be tried on a clean carpeted surface, with thin socks.

* Colors may appear slightly different on different screens.
 ---------------------------------------------
RETURNS
We gladly accept returns and exchanges
Contact us within: 3 days of delivery
For exchanges, ship items back within: 14 days of delivery
For refund, ship items back within: 14 days of delivery
*For Israeli customers: Please use registered mail for shipping
---------------------------------------------
Customs and import taxes
Buyers are responsible for any customs and import taxes that may apply. We are not responsible for delays due to customs.
Conditions of return
*Buyers are responsible for return shipping costs.
*A 5% fee for managing and payment services will be charged
*If the item is not returned in its original condition, the buyer is responsible for any loss in value.
*In any case, customs and duties charges will not be refunded.
*We can't accept returns for Custom or personalized orders.
How to return the parcel ?
This is how to return the parcel:
Item must be in its original package, please also wrap in a sealed plastic bag to avoid humidity on the way.
Must be written: "Returned Goods" on both the parcel ( in big ) AND in the delivery company's form.
Put a value of 10 $ and write "Returned Goods" next to it.
Also mark Returned goods in the form.
Please make sure the address, and phone number are witten clear and visible. Sometimes the client's first page is well read but the copy is too light/ faded.
---------------------------------------------
USA customers: please use First Class USPS service only.
Our items are under a free trade agreement
Please do NOT use private companies such as:
TNT-UPS-DHL-FedExpress-EMS or any kind of priority- fast- express mail service. These are held by custom for a long time and sent back to the sender at his expenses.
---------------------------------------------
For non-USA customers: please send via regular registered mail and NOT private companies such as EMS or any kind of priority / fast/express mail service. make sure to avoid tracking numbers starting with RE or EE. These are held by custom for a long time and sent back to the sender at his expenses.
---------------------------------------------
return cost are not refundable.
---------------------------------------------
where to ship back to:
Ship to:
Hadas Katz
Hameri 38/2
Givatayim 5333004
ISRAEL
Add this:
Cell number: 0544-737-092
(on Both the parcel and the deliver company's note)
---------------------------------------------
No need to write " Katz and Birds" anywhere.
---------------------------------------------
Thank you,
Hadas